Here are two clothing giants who have joined forces to bring you a new collection that's explosive to say the least.
Helly Hansen is the top Norwegian brand and experts in strong textiles to tackle extreme conditions, at sea or in the mountains. It's no coincidence that Puma has been won over by the technical side to HH's technology. It's all about strength nowadays and famous outdoor brands – like Salomon – have the wind in their sails.
This savvy partnership has produced a whole range of retro clothing that pays a loving tribute to the 90s. The tone has been set by this clothing capsule: orange reigns with pops of blue green. There are chunky reversible puffer jackets with vintage patterns capturing the two brand logos.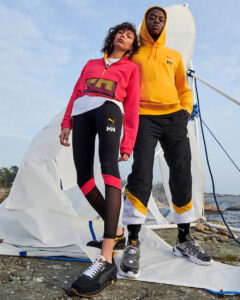 There are also some t-shirts, hoodies, a trendy oversize bumbag, an orange sailor's hat with two understated logos… And obviously sneakers too: a future-forward pair of Puma Nitefoxs, LQD Cell Omegas and our favourite: the Trailfox MTS trainers with chunky soles, guaranteed stability and the ultimate in comfort. A little gem that can play in any field. A collection that seems perfectly designed to conquer the great outdoors and look seriously cool keeping warm.
Some pieces from the collaboration are available on https://www.courir.com/fr/c/puma-helly-hansen/